Mine
Mine is Marlene's latest novel, published by The Book Guild, launching on 28 May. Available to pre-order now in paperback.
High-powered Sophie Taylor thinks baby-making can happen on the fly. Managed alongside work, marriage, an MBA and travel, she decides to lauch Project Bébé. 
Successful at everything, Sophie expects and always scores one hundred per cent. That is until the shocking failure of one fertility treatment after the next.
As the heart-breaking reality of infertility sinks in, Sophie owns up to another almost unspeakable loss and faces difficult decisions when she's targeted as the love interest of a high-powered financier. Through a colleague, a mother of four, she learns that motherhood is not all it's cracked up to be. Just as Sophie feels satisfied with the advantages of a childfree lifestyle, a fateful meeting changes everything…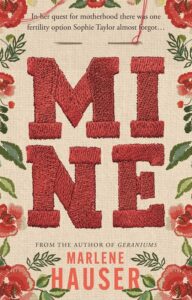 Geraniums
Geraniums is published by The Book Guild. Available in paperback.
Lily is only four when she realises her family is headed for disaster. While she and her siblings are dragged around the world during the 1960s and early '70s by their military father Jack, he propels their mother, gentle, green-fingered Lauren Rose, to the edge of insanity through mental and physical abuse. A cat-and-mouse game of escape and entrapment ensues, testing Lily's resilience, resourcefulness and family loyalty to the limit.
Jack, an emotionally scarred war veteran, enlists the help of his equally formidable mother Emma to turn his children against the fragile Lauren Rose. Their mission is to make the children conform to a strict, unforgiving code of behaviour and crush their spirited natures. Rebellion is met with increasingly harsh penalties.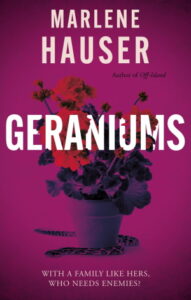 OFF-ISLAND
Off-Island is published by Troubador, available in paperback and ebook.
When Krista impulsively walks out on her career as a professional dancer, it is the beginning of a new chapter in her life. She feels unsettled and excited by the sense of imminent change around her.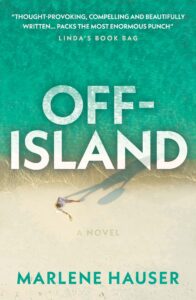 Oxford Litarary Festival 2019
Marlene Hauser was interviewed about her novel 'Off-Island' at Oxford Literary Festival 2019.
UNDER THE INFLUENCE
Marlene Hauser served as Associate Producer on 'Under the Influence', a CBS made-for-television movie.
A hard-hitting heart-breaking social drama detailing the devastating impact of a 'respectable' long-term alcoholic Noah Talbot on his family and personal life, a story marked by intelligence and laced with ironic wit. 
 Inspired by personal experiences as a child, Marlene created and developed "Under the Influence" whilst Director of Development at Cody Communications. Marlene hoped the movie would help people look at the attitudes surrounding alcoholics in a new light, especially where there were children involved.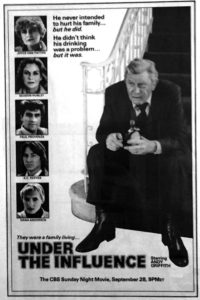 THE WRITER'S NEW YORK CITY SOURCE BOOK
Marlene Hauser compiled a guide containing information about organisations that poets, playwrights and writers could contact to help boost their careers.
The cover was created by Seymour Chwast, graphic designer and illustrator.
"After reading it, one is left with the optimistic view that perhaps things are not quite so hopeless for the aspiring writer..."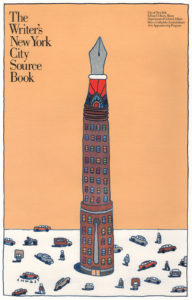 PROJECT SECOND CHANCE
Whilst an executive at AETN Marlene was part of a team who raised funds bringing Project Second Chance to reality, securing support from Wal-Mart and 26 other corporations. Project second chance is a national program in the US, giving people who have dropped out of school the opportunity to gain credits towards a General Equivalency Diploma.