Hi Everyone,
Slow start this June in getting the blog to you due to Mine being released on May 28th, as well as son wrapping up second year at Uni and all the normal intro to fun summer stuff—like Djokovic playing Alcaraz at the French Open.
A special shout out to you for being with me on the Mine journey, from draft, publication and release. Thank you!
The Fair Incognito, my next work, which I hope (fingers crossed) to finish before year's end is historical fiction. Taking place from 1785 to 1830, The Fair Incognito roams far and wide, from the Caribbean to Europe, then the USA and back again. Will keep you posted.
Here's a brief update, with reviews that have touched me.
"…the story of everywoman…"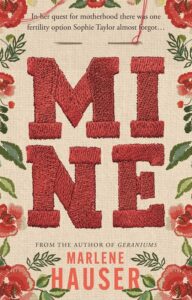 When is enough, enough?
High-powered Sophie Taylor thinks baby-making can happen on the fly. Managed alongside work, marriage, an MBA and travel, she decides to launch Project Bébé. Successful at everything, Sophie expects and always scores one hundred per cent. That is until the shocking failure of one fertility treatment after the next.
As the heart-breaking reality of infertility sinks in, Sophie owns up to another almost unspeakable loss and faces difficult decisions when she's targeted as the love interest of a high-powered financier. Through a colleague, a mother of four, she learns that motherhood is not all it's cracked up to be. Just as Sophie feels satisfied with the advantages of a childfree lifestyle, a fateful meeting changes everything…
Triumphant, joyous and full of hope, Mine is a captivating story about a less understood route to motherhood: the fertility option Sophie almost forgot.
Early Reader Love
Mine Reviews
Mine is so much more than a story about a woman's struggles with infertility. It's a story of love, ambition, education, career, marriage, devastation and fulfilment, all told in 314 compulsively readable pages.
When Sophie Tucker and Tucker (Tõnis) Mägi decide to marry and start a family, they live in Rye, New York. Tucker inherits land in Tallinn, Estonia and they quickly decide to move there so that Tucker, a developer, can take advantage of this quickly developing country, freed from Soviet domination. However, on their honeymoon in Monaco, Sophie is offered a scholarship to the University of the Riviera and starts work on her MBA.
Tucker returns to Estonia and their limited contact limits the baby project. At forty, Sophie is convinced she will get pregnant naturally, so she concentrates on her studies and, although challenged by a younger woman, graduates as valedictorian.
She returns to Tallinn but is unable to find a job. When she's offered a desirable position in London, she moves there and deals with another competitive woman and an amorous boss. This happens against the backdrop of fertility tests, hormone shots, disappointment and ultimate joy.
What an amazing story! Sophie is a modern, driven woman with a successful career. She has delayed having a baby assuming she would be as successful with pregnancy as she was with finance. Marlene Hauser has delivered the story of everywoman.
It is a must read. 5 stars.
Thank you to NetGalley, The Book Guild and Marlene Hauser for this ARC.
______________
I loved this story! Five stars.
Books about adoption are one of my favorite types to read. Hauser delivers a beautiful book about a couple's desire to have a baby and the steps they go through to get there. It was interesting to read about adoption that was not based in the US.
Thanks to NetGalley for the ARC.
______________
The female protagonist in the novel Mine is smart, perceptive and goal oriented. She has a deep desire to achieve an MBA degree, succeed in business and an even stronger, deeper longing to have a child. It's not easy for the main character. She's an anomaly amongst her younger peers in grad school, faces unwanted advances from a businessman, lives in a long-distance marriage, and her biggest struggle is her race against her biological clock.
This absorbing narrative is woven against backdrops of the French Riviera, Estonia, and London. The story is inspiring and centers on a woman's determination, hope, faith and an overlooked choice. This story captured my heart as it will, I believe, the hearts of many women who are facing or have faced well-established issues surrounding age, an urge for motherhood, infertility, a career, a happy marriage, and the challenge of sorting it all out to live a fulfilling life. Mine is a moving and satisfying read, sensitively told, and one that will warm your heart.
Thanks to The Book Guild and Marlene Hauser for the ARC.
Other fan-favourites

"This novel really swept me away."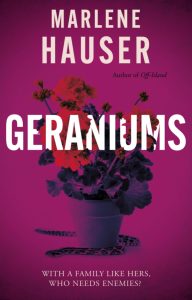 A poignant exploration of family identity
 Lily Preston, clever beyond her years, is only four when she realises her family is headed for disaster. While she, older sister Mags and younger brother Artie are dragged around America and the world during the 1960s and early '70s by their military father Jack, he propels their mother, gentle, green-fingered Lauren Rose, to the edge of insanity through mental and physical abuse. A cat-and-mouse game of escape and entrapment ensues, testing Lily's resilience, resourcefulness and family loyalty to the limit. 

Jack, an emotionally scarred war veteran, enlists the help of his equally formidable mother Emma to turn his children against the fragile Lauren Rose and drive her away. Their next mission is to make Lily and her siblings conform to a strict, unforgiving code of behaviour and crush their spirited natures. Rebellion is met with increasingly harsh penalties.

Jack brings new women into his children's lives, but Lily vows that, no matter what, she will one day trace her real mother, compelled to by the enduring bond between them. Love arrives in the form of high-school sweetheart Diego, who helps her in her quest to break free from Jack and Emma's control. When their persecution of her reaches bizarre new heights, Lily is forced to stand up to them in public and assert her right to independence, a college education, the chance to fulfil her dream of becoming a writer… once she has achieved the longed-for reunion with her mother.
Robin P 


The author writes with an unselfconscious brutal honesty. This is an intense forensic exploration of a dysfunctional family. I was totally enthralled and appalled and couldn't put the book down until I found out what happened to Lily and her siblings. I was reminded of Flowers In The Attic (the Virginia Andrews classic, not the film) but this is the truest evocation of lingering trauma I have ever read.

This bildungsroman is boldly written, at times shocking, creating an emotional rollercoaster of anger and pity. Compelling, visceral and immediate: an unconditional masterpiece.
"Important, intelligent and beautifully written."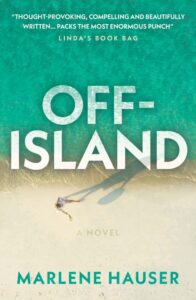 A book about being lost, resilient, & coming of age…
Krista Bourne has always been surrounded by the strength, love and wealth of her family and their homes in New York City and Martha's Vineyard. She has never had to think for herself. Living with boyfriend Michael and her elderly grandfather, she can also summon up the comforting ghosts of her beloved father and grandmother. In vivid dreams she flies with her pilot father, and when awake remembers idyllic childhood holidays spent with her bohemian grandmother.

When Krista impulsively walks out on her career as a professional dancer, it is the beginning of a new chapter in her life. She feels unsettled and excited by the sense of imminent change around her. This feeling turns to panic, then fear when she realises that she is pregnant and is uncertain whether or not she wants to keep the baby, bringing her and Michael to a crossroads in their relationship. Adamant that she alone must deal with the situation, Krista rejects all offers of support from him, isolating her at a time when she most needs help. Krista's journey and emotional upheaval take her back to her summer home on Martha's Vineyard, where she is surprised to find out that she does not know her family history quite as well as she imagined… 
Linda's Book Bag 


When Krista walks out of her dance class, this will be the beginning of a huge turning point in her life.

My goodness. Off-Island may be more novella than novel in length but it packs the most enormous punch. The quality of Marlene Hauser's writing is so sophisticated and visual that the whole time I was reading I felt resonances with Andre Gide's Isabelle. There's an intensity of colour and an exploration of truth and identity that I thought was similar to this Gide's classic. The poetic nature of some passages, especially those relating to Krista's thoughts and dreams, was very affecting. I thought the descriptions of setting were utterly beautiful.

I confess I couldn't stand Krista, but equally I couldn't stop reading her story. I had to know how far her past had shaped her present and how she might deal with her future. Marlene Hauser has depicted such an intimate and compelling portrait of guilt, grief and self-knowledge that I read Off-Island in one sitting. I went from despising Krista to feeling compassion and empathy as a result of the skilful writing. The claustrophobic intensity of so few characters affords such depth of insight into Krista's mind and character that it is impossible not to become involved as a reader.

Never having been pregnant, the events of Off-Island are totally unfamiliar to me and yet I felt the way in which they are presented depicted such universal themes that I could understand and appreciate them all. Marlene Hauser's exploration of how we make choices and how we can be self-deceptive makes Off-Island almost compulsory reading for anyone in Krista's, and indeed Michael's, situation. I felt I learnt so much about myself, let alone the characters, from this small volume.

Off-Island is not an easy read. It may well take some readers on a journey they would rather not take, and I'm not sure it's a book I can say I enjoyed because of the subject matter. At times I found it an uncomfortable read, but I also found it fascinating, thought-provoking, compelling and beautifully written.

I think Off-Island by Marlene Hauser is a very important book.
Thanks all for your support, and allowing me to flog my books a bit!  Wishing you a June full of lazy days, reading and (tolerable) sunshine.
Love,
Photo by StudioMikara | iStock