Hi Everyone,
October! The last quarter of 2019 already, and what a tremendous year it has been. I love this month because now we see the very last of the summer light while the gold and red of the turning leaves heralds the soon-to-be holiday festivities. I am usually back at the laptop in earnest at this season, trying to bring projects over the line before the close of the year. My audio book of Off-Island should be out soon, and hopefully Juicy Fruit, now tentatively retitled Geraniums, will be through its next, if not last draft.
A family business should finally be passing into new hands, safe hands, and this will allow me to focus on completing Geraniums, while also hopefully bringing The Czar's Madman back to the attention of major networks/producers. I mentioned this book in last month's newsletter. The work is riveting as it was written at a time when not much was coming out of Eastern Europe to the West, and it reflects the political turmoil of that repressive era. After reading it, I was not surprised to learn that the late Jaan Kross, its author, was short-listed for the Nobel Prize. The risk to his own freedom he took in writing the novel astounded me even more when I discovered this writer learnt his craft in a library in Siberia.
Another project I'd like to get off the blocks is very special to me as it involves the life of a British woman who was married to one of the most visible men of the last century, and yet remains entirely (or almost) invisible despite the crucial role she played in his vast success. Watch this space!
With the sound of children's laughter outside my home at eight o'clock (arrival), ten o'clock (recess) and again at three (departure), all emanating from the primary school next door, I am reminded of the other reason I love October: joy. Pure unadulterated joy. Gone is the first rush of September and a new school year, while the more autumnal feel of settling in for the long haul permeates everything. Along with many other tricks and aids I've been taught to keep things ticking along while I forge serenely towards a goal—be it finishing a novel or buying a new car—is recognizing the role of joy.
A long-time friend once said to me at one of those nasty hairpin turns in life that can crop up at the least convenient times, when working serenely towards any fixed goal seems unimaginable, that I should "get my joy going." Joy going? What did that mean? Because I knew her well, I knew she wasn't referring to a pedicure, a bubble bath, manicure or even a get-down-on-your-knees gratitude list. Instead, without needing to ask, I knew she meant that I needed to move, to act, to dig deep, find that place inside that is not to be repressed (without serious consequences). She meant I should use movement, song, creativity, while inching along that U-shaped turn in the road, knowing that no matter how minor the action that is taken, it will work like magic. So what does joy have to do with October and the magnificence of settling in, to work towards a cherished goal? Joy is, perhaps, best pictured as the draught horse of the soul, which if you permit it will bear you ever so gently onward.
Wishing you an October full of reds, greens, golds, and of course of joy, of settling in for the long haul, and – yes! – action, even if that means letting something go.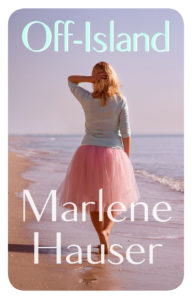 On sale, paperback released 28th September
Order Off-Island: